Ecommerce is expanding rapidly, with sales expected to reach $5 TRILLION this year. New platforms are constantly evolving to meet the needs of retailers entering this space.
Five things to keep in mind when considering using Docker for your mission-critical applications.
Reading online posts and news items1 about Docker can give you the impression that Docker is inherently insecure and not ready for production use. While you certainly need to be aware of issues related to using containers safely, containers, if used properly, can provide a more secure and efficient system than using virtual machines (VMs) or bare metal alone.
Well if you are influenced by the immense popularity of video-sharing sites such as YouTube, DailyMotion, Metcalfe and others, and are planning to start your own then you have surely landed at the right place as in the foregoing presentation we would be showcasing you the 10 Best Video Sharing Scripts.
Classifies ads web business is very profitable, easy to maintain and is one of the most sought out internet business. Before setting up an online classified ads business site, first you have to decide what category of classifieds you will build (for example an auto classifieds, a pet classifieds, an art and antiques classifieds, and so on).
You have a product that you're excited to begin selling on the internet. You've poured your heart and soul into this product and are passionate about getting it to as many people as possible. In fact, you're so passionate that you've spent almost all your money developing it, leaving you almost no excess budget.
You can use your Yahoo Mail account also to send emails from a client like Thunderbird or Outlook, employing Yahoo's own SMTP server.
The setup process is extremely easy. You just need to open the configuration window:
Game Flappy Bird, một trong những ứng dụng trên điện thoại di động và máy tính bảng siêu hot trong thời gian qua, đứng đầu bảng xếp hạng của App Store và Google Play. Game này do một người Việt Nam viết ra, và được toàn thế giới say mê. Giúp chủ nhân của nó kiếm lên đến 1 TỶ ĐỒNG trên NGÀY.

If the blockchain frenzy and the hype surrounding it is anything to go by, blockchain is set to revolutionise everything from the way in which we make payments to the way in which we drink beer. I may have made that last bit up – but you get the idea that in and amongst the buzz there are some pretty wild predictions being made! So in this post, i thought it would be useful to take a step back from the hype and understand "what is blockchain?" If you keep coming back to this fundamental question, i think it can help you navigate and understand what use cases are feasible and which ones are not. Through these 6 awesome infographics we get a good understanding of what blockchain is.
For container security, you'll find plenty of open-source tools that can help prevent another debacle like the one at Tesla, which suffered a Kubernetes cluster breach. But container security is still tricky, so you need to know which utilities to add to your arsenal.
Lots of people become victims of criminals who scan their card information using special devices (skimming) and then steal their money. Today, even when you use your card at stores or restaurants, you can fall into a trap.
App Store Optimization (ASO) is the process of improving the visibility of a mobile app (such as an iPhone, iPad, Android, BlackBerry or Windows Phone app) in an app store (such as iTunes for iOS, Google Play for Android, Windows Store for Windows Phone or BlackBerry World for BlackBerry). Just like search engine optimization (SEO) is for websites, App Store Optimization (ASO) is for mobile apps. Specifically, app store optimization includes the process of ranking highly in an app store's search results and top charts rankings. ASO marketers and mobile marketing companies agree that ranking higher in search results and top charts rankings will drive more downloads for an app.
In 2012, BigCommerce launched an integration fund, which lead to hundreds of third-party apps for its platform. Recently BigCommerce launched an expanded partner program with new certification tiers —certified, premier, and elite — to strengthen and showcase app integrations.
WATERLOO, ONTARIO--(Marketwired - June 28, 2013) - Research In Motion Limited (doing business as BlackBerry) (NASDAQ:BBRY)(TSX:BB), a world leader in the mobile communications market, today reported first quarter results for the three months ended June 1, 2013 (all figures in U.S. dollars and U.S. GAAP, except where otherwise indicated).
What makes your business a top business? According to a new report from the IBM Institute for Business Value, it could be how well your company implements social business.
In "The Business of Social Business," authors James Cortada, Eric Lesser and Peter Korsten argue that social is no longer "simply a 'sandbox' for the under-30 generation." Merely developing and deploying the technology isn't enough.
Here's a quick explanation of all the fields:
Description: it's an informal name associated to your SMTP server.
Server name: the actual SMTP specification. Below you find a handy list of all the server names for the most common email providers.
Port: SMTP servers normally use port 25 to work, but there are other options.
Connection security: the standard SMTP email transfer goes without encryption, so it can be a good idea to secure it with STARTTLS or SSL/TLS.
Authentication method: it can be a plain text password, a cyphered one, POP before SMTP, CRAM-MD5, KERBEROS, NTLM, etc.
User Name: your email address.
Average prices have been tumbling toward $2 a gallon in the United States, and many places around the country are already paying less than that.
Still, local prices can vary by a quarter per gallon -- that's about $4 per fill-up.
If you're looking for the absolute best price, there are dozens of apps that can save you money at the pump. But each has pros and cons.
Here are five of the best.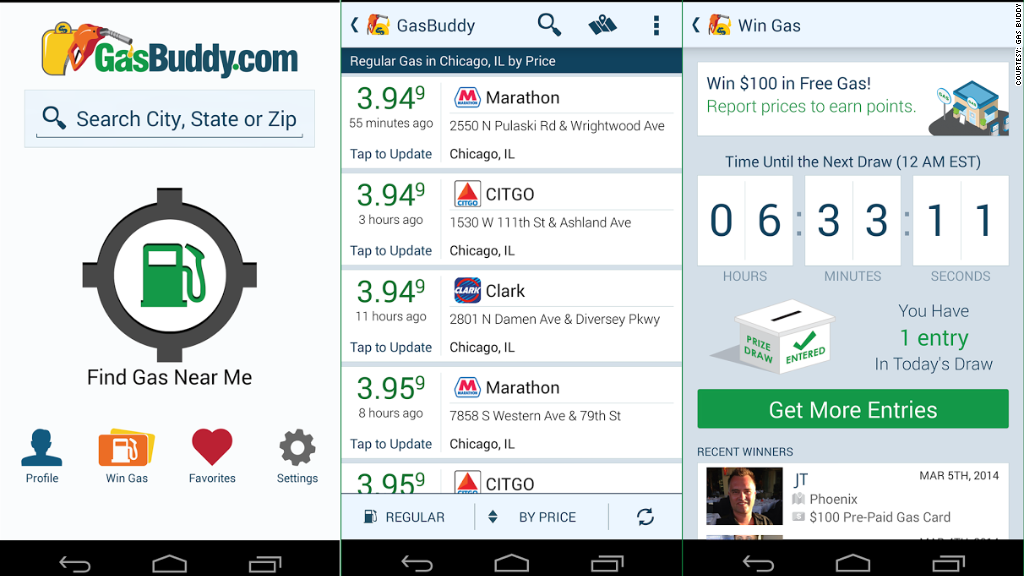 Windows won't allow you to modify files that open programs have locked. if you try to delete a file and see a message that it's open in a program, you'll have to unlock the file (or close the program).
Social networking sites like Facebook, Twitter, Google+, MySpace, and LinkedIn have taken off. They are now among the top sites visited among the entire World Wide Web. As you might have guessed, the open source community has some involvement in the social networking space.
Open source eCommerce software—like other business software—can make or break you.
Open source ecommerce platforms offer businesses an inexpensive and customizable option for launching an online store. Many of open source platforms also have active support communities and scalability, for growth.
So when it's time to add a new expense to the budget, resistance is to be expected. You can work your hardest to justify the cost of a new marketing automation system, but sometimes the purse strings just won't budge.
This article explains how to copy and paste a website address (URL) when you are using the Chrome browser on an Android smartphone.
Copy and paste on an Android phone
POP and SMTP are the two protocols which take care of the email flow (send and receive respectively) on the internet.
SMTP ("Simple Mail Transfer Protocol") is used for sending and delivering from a client to a server via port 25: it's the outgoing server. On the contrary, POP ("Post Office Protocol") allows the user to pick up the message and download it into his own inbox: it's the incoming server. The latest version of the Post Office Protocol is named POP3, and it's been used since 1996; it uses port 110.
To set up a mail client it's necessary to configure both SMTP and POP providing their settings. Here's an example with Mozilla Thunderbird ("Outgoing server" item, selected from "Account settings" in the "Tools" menu):
Marketing Automation
1. Mautic
Mautic combines tools for social media marketing, lead management and email marketing in one unified platform that includes the abilities to create campaigns and run reports. It's available as an open source download or as a hosted service. Operating System: OS Independent.
10 Best Premium Real Estate Classifieds Scripts
1. REstate – php Real Estate Script
REstate is easy to install, easy to use, provides lots of features and option details. REstate displays your listings featuring pictures, prices, availability, advanced searches and many, many more all being managed by you from the Admin Area via your web browser.
Adhere is a comprehensive mobile advertising platform. The Adhere Ad Server and the Adhere User Profiles Server are offered open source and are posted on sourceforge