Webmail services like Hotmail are great to check your email account online: but you might want to access your inbox from a desktop software like Mozilla Thunderbird or Microsoft Outlook. In fact, a mail client can be handier and generally provides more tools for your account management.
Lots of people become victims of criminals who scan their card information using special devices (skimming) and then steal their money. Today, even when you use your card at stores or restaurants, you can fall into a trap.
Have you ever visited a website from your mobile phone to find the number of a business you wanted to call and tried to copy that link? Wouldn't it be easier if their phone number were click-to-call? Or if they offered you a button to click while on your phone?
Much like clicking on an email address often opens your email system with a subject already created, many other communication systems can be click to call.
If the blockchain frenzy and the hype surrounding it is anything to go by, blockchain is set to revolutionise everything from the way in which we make payments to the way in which we drink beer. I may have made that last bit up – but you get the idea that in and amongst the buzz there are some pretty wild predictions being made! So in this post, i thought it would be useful to take a step back from the hype and understand "what is blockchain?" If you keep coming back to this fundamental question, i think it can help you navigate and understand what use cases are feasible and which ones are not. Through these 6 awesome infographics we get a good understanding of what blockchain is.
AOL webmail is fantastic to check and send your emails directly on a browser; however, many users feel more comfortable with a mail client. To deliver messages using your AOL account and a mail application, however it's necessary to set up AOL's SMTP server: here's how to do.
First of all open your client's configuraton panel:
Average prices have been tumbling toward $2 a gallon in the United States, and many places around the country are already paying less than that.
Still, local prices can vary by a quarter per gallon -- that's about $4 per fill-up.
If you're looking for the absolute best price, there are dozens of apps that can save you money at the pump. But each has pros and cons.
Here are five of the best.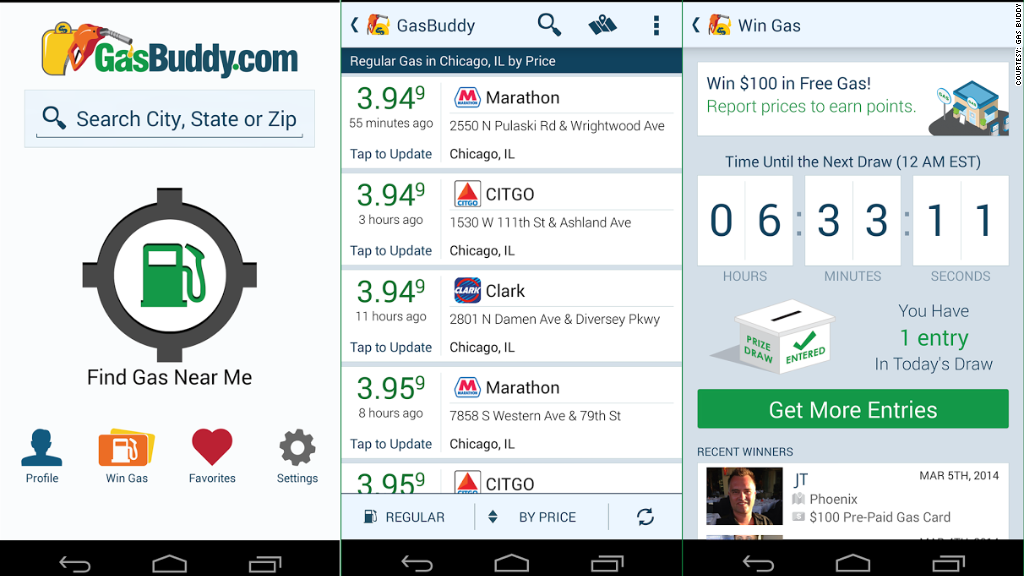 Adhere is a comprehensive mobile advertising platform. The Adhere Ad Server and the Adhere User Profiles Server are offered open source and are posted on sourceforge
There are various E-business models available these days. Having a Classified Ads websites is one of them. Classified sites are easy to implement, easy to manage and profitable too. As an online business promoter, you just need to have the best classified script with you so as to build a powerful and a great looking classified site.
Get the help you need for your children, pets, elderly parents, home and lifestyle on smartphone app. Making it easier to find better care for your whole family smartphone app. Contact to DVMS.
What are the SMTP settings of Gmail? That's an easy question.
Gmail is a fantastic webmail application, but some people find it handier to access their own inbox from an email client like Thunderbird or Outlook: to do that it's necessary to configure its outgoing server entering the right settings.
First, open the mail software's configuration panel:
So when it's time to add a new expense to the budget, resistance is to be expected. You can work your hardest to justify the cost of a new marketing automation system, but sometimes the purse strings just won't budge.
Bring your own device (BYOD) (also called bring your own technology (BYOT), bring your own phone (BYOP), and bring your own PC (BYOPC) refers to the policy of permitting employees to bring personally owned mobile devices (laptops, tablets, and smart phones) to their workplace, and to use those devices to access privileged company information and applications. The term is also used to describe the same practice applied to students using personally owned devices in education settings.
BYOD is making significant inroads in the business world, with about 75% of employees in high growth markets such as Brazil and Russia and 44% in developed markets already using their own technology at work. In most cases, businesses simply can't block the trend. Some believe that BYOD may help employees be more productive. Others say it increases employee morale and convenience by using their own devices and makes the company look like a flexible and attractive employer. Many feel that BYOD can even be a means to attract new hires, pointing to a survey that indicates 44% of job seekers view an organization more positively if it supports their device.
When thinking about some of humanity's greatest inventions, the World Wide Web is surely somewhere on that list. Technology and the Internet have given us innovations that expand the human intellect and almost always have creative, expressive, and even moral implications that have shaped our lives in ways even yet defined.
In 2012, BigCommerce launched an integration fund, which lead to hundreds of third-party apps for its platform. Recently BigCommerce launched an expanded partner program with new certification tiers —certified, premier, and elite — to strengthen and showcase app integrations.
App Store Optimization (ASO) is the process of improving the visibility of a mobile app (such as an iPhone, iPad, Android, BlackBerry or Windows Phone app) in an app store (such as iTunes for iOS, Google Play for Android, Windows Store for Windows Phone or BlackBerry World for BlackBerry). Just like search engine optimization (SEO) is for websites, App Store Optimization (ASO) is for mobile apps. Specifically, app store optimization includes the process of ranking highly in an app store's search results and top charts rankings. ASO marketers and mobile marketing companies agree that ranking higher in search results and top charts rankings will drive more downloads for an app.
Open source eCommerce software—like other business software—can make or break you.
Ecommerce is expanding rapidly, with sales expected to reach $5 TRILLION this year. New platforms are constantly evolving to meet the needs of retailers entering this space.
POP and SMTP are the two protocols which take care of the email flow (send and receive respectively) on the internet.
SMTP ("Simple Mail Transfer Protocol") is used for sending and delivering from a client to a server via port 25: it's the outgoing server. On the contrary, POP ("Post Office Protocol") allows the user to pick up the message and download it into his own inbox: it's the incoming server. The latest version of the Post Office Protocol is named POP3, and it's been used since 1996; it uses port 110.
To set up a mail client it's necessary to configure both SMTP and POP providing their settings. Here's an example with Mozilla Thunderbird ("Outgoing server" item, selected from "Account settings" in the "Tools" menu):
I'm subscribed to various newsletters and I regularly receive a popup box when trying to open a newsletter that says "Contacting Server for Information" or simply "Contacting:" with a reference to a URL.
It seems to happen more frequently since Pinterest got more popular as the URL is also indicating that it is contacting.
While it is doing this, I cannot do anything in Outlook for 15-30 seconds or even a minute!
What is this and how can I make it stop?
WATERLOO, ONTARIO--(Marketwired - June 28, 2013) - Research In Motion Limited (doing business as BlackBerry) (NASDAQ:BBRY)(TSX:BB), a world leader in the mobile communications market, today reported first quarter results for the three months ended June 1, 2013 (all figures in U.S. dollars and U.S. GAAP, except where otherwise indicated).
A recent study by Cisco Consulting Services and DHL reveals that the Internet of Things (IoT) is already having a profound effect on the logistics of doing business, including the way we approach fleet management.
The capabilities of smart cars have changed the way we look at driving and managing company drivers and vehicles. Companies are adding dashboard monitors that designate better routes or use IoT as a way to screen employee habits to ensure safety while on the road. And this is only the beginning.
10 Best Premium Real Estate Classifieds Scripts
1. REstate – php Real Estate Script
REstate is easy to install, easy to use, provides lots of features and option details. REstate displays your listings featuring pictures, prices, availability, advanced searches and many, many more all being managed by you from the Admin Area via your web browser.
Here's a quick explanation of all the fields:
Description: it's an informal name associated to your SMTP server.
Server name: the actual SMTP specification. Below you find a handy list of all the server names for the most common email providers.
Port: SMTP servers normally use port 25 to work, but there are other options.
Connection security: the standard SMTP email transfer goes without encryption, so it can be a good idea to secure it with STARTTLS or SSL/TLS.
Authentication method: it can be a plain text password, a cyphered one, POP before SMTP, CRAM-MD5, KERBEROS, NTLM, etc.
User Name: your email address.
Open source ecommerce platforms offer businesses an inexpensive and customizable option for launching an online store. Many of open source platforms also have active support communities and scalability, for growth.
Classifies ads web business is very profitable, easy to maintain and is one of the most sought out internet business. Before setting up an online classified ads business site, first you have to decide what category of classifieds you will build (for example an auto classifieds, a pet classifieds, an art and antiques classifieds, and so on).